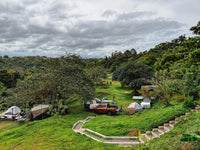 New Campsite: SIERRA GROVE TANAY
Enjoy the scenic views of the Sierra Madre mountain ranges 550 meters above sea level.
Just an hour and a half drive from Metro Manila, the Sierra Grove Picnic & Campgrounds is located at Sitio Mayagay, Brgy. Sampaloc, Tanay Rizal.
Like and follow their page to know more by clicking the button below.
CHECK IT OUT
Featured Campsite: CAMP BOA TANAY
Just more than an hour east of Metro Manila...
Camp BOA is your base camp to explore the natural sites of Tanay, Rizal and the Kaliwa Watershed Reserve.
The campground is nestled between the mountains of Sierra Madre and bound by the River Lanatin. Hikers, bikers, overlanders, and 4x4 enthusiasts converge in this tranquil sanctuary.
Know more about their campsite by clicking the button below.
Book Your Stay